Finally. The great exhibition of Jacek Yerka works will open in July.
It was always a vicious circle – how to get together enough works to make an exhibition, when you paint slowly and people are waiting in line for your paintings?. To gather at least 20 pieces, Jacek Yerka would have to work for 3 years and sell nothing, as his average yearly result is 8 acrylic paintings.

Finally this , almost impossible task has been accomplished.
Jacek Yerka and Agra-Art Auction House have great pleasure to invite to Magical worlds exhibition of 62 acrylic paintings.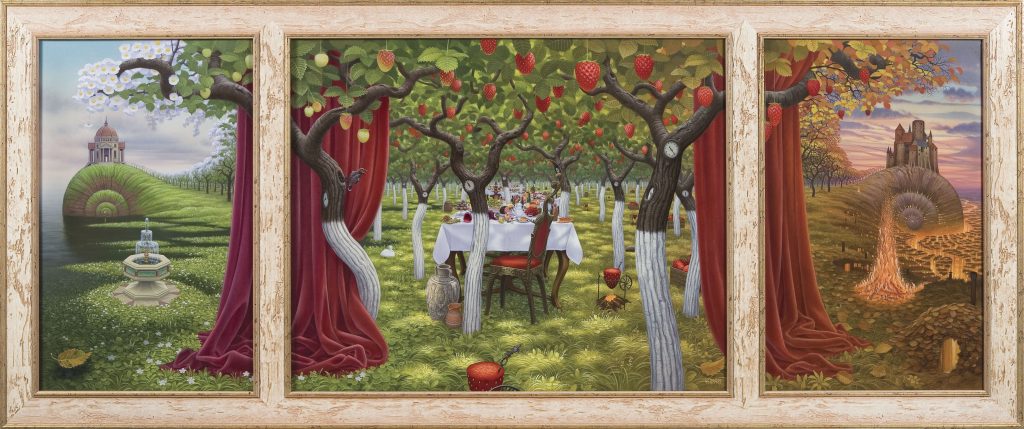 Exhibition: 62 acrylic on canvas paintings, dating from 1980 to 2022. All works have been consigned by private collectors . You will see many iconic pieces as Bibledam, Private wave, Three seasons or Walking lesson.
Curators: Jolanta Krasuska, Konrad Szukalski
Vernissage day: On 5th of July there will be the first day of the exhibition, where visitors will be able to meet the Artist from 5 pm.
Time: from 5th of July to 3rd September 2022
Place: Agra-Art Auction House main seat in Warsaw, Poland, Wilcza 70 street
Hours: from 11 am – 6 pm daily, sat. 11 am – 3 pm, sun. closed
Admission : free
Catalogue (in Polish) including all works will be available for purchase.
Some restrictions may apply (limited number of visitors etc)